The uncertain future of the theatrical industry has sadly dimmed the shining lights that usually illuminate London's West End.  As you can see from the recent picture of our Tour Guide David taken outside Shakespeare's Globe Theatre on Bankside, those magnificent black iron gates are firmly shut for now.
Our Tour Guides here at Black Taxi Tour London have a vested interest in what the capital's tourism, hospitality and culture has to offer.  London has a reputation of a rich history and pageantry that helps to drive millions of overseas and local visitors to our amazing city and all those famous attractions it has to offer for the discerning visitor.
At the centre of the city's attractions is the entertainment and arts industry, this provides the lifeblood to a vibrant pumping heart of London.  As London starts to slowly recover from the Covid-19 pandemic it leaves the future in doubt over the theatrical industry as a whole.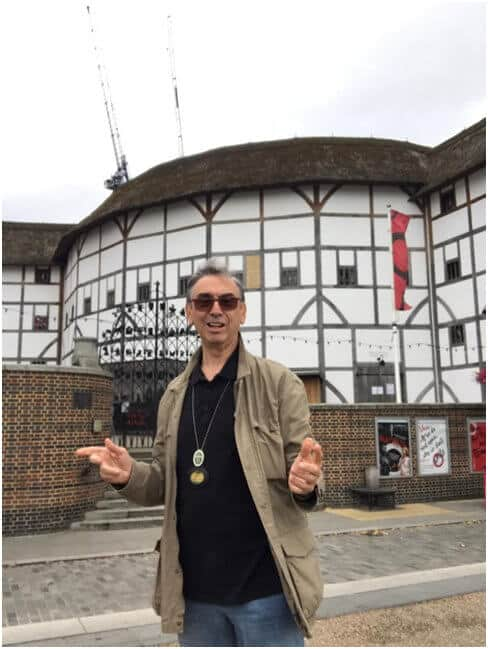 The owners, producers and management of these beautiful theatres are fearful that some may not survive due to costly maintenance and overheads.  Even when there are no current productions on, they still consume many thousands of pounds per week to keep them safe and secure. The young and aspiring actors and actresses, dancers, chorus lines, musicians, technicians, front and back of house staff, have their careers hanging by a thread.
At the beginning of July, the news that the Government has injected a £1.57 Billion investment to help protect Britain's cultural, arts and heritage institutions was warmly welcomed.
From the 1st August 2020, London's Theatres were allowed to welcome live audiences on a trial basis to stringent socially distanced guidelines in forced under the Government's roadmap to recovery.
Although this ease into post lockdown normality is a step in the right direction, many Theatre Managers fear that the percentage of audience allowed in will not be a viable proposition to warrant the reopening of their theatres. However, should the preliminary trials prove to be successful, there is a degree of optimism that by Christmas if an increased audience capacity is allowed then the flashing L.E.D lights of London's Theatreland will signal that once again theatres will be open to adoring audiences.
If you are missing the buzz that a night at the theatre evokes, our custom-made London Theatre Tour may be just what you need.  Our Driver Guides will enable you to take centre stage on your very own theatre tour of London, taking in some of the most iconic sights of the West End throughout London theatre history.  We'll explore the architects, authors, actors, playwrights and political culture that make this theatrical city so amazing.
The stage curtains maybe drawn for now, but the show must go on (and all that jazz!) so, let our guides take you on a socially distanced tour around theatreland in an iconic London Taxi.
No need to be concerned about Covid:
Our vehicles are deep cleaned by ElectroClean (Killing and protecting surfaces from 99.99% of known Viruses & Bacteria; including Coronavirus for up to 28 days)
Each vehicle is disinfected after each tour or transfer.
The partition screen behind the driver provides a separate compartment for passengers to maintain social distancing, and is designed for easy cleaning.
Hand sanitiser is provided for passengers.