Cotswold tours from

London
11 hour tour
Price per taxi
Up to 6 guests
Bespoke tour
We will pick you up from a location of your choice and take you on your trip to the Cotswolds. Our taxis are comfortable and you will have your own personal driver guide for the day, so all you need to do is sit back, relax, and enjoy the wonderful views.
This is a full day tour lasting 11 hours – we allow an hour for lunch, so you only pay for 10 hours.
Cotswolds Day Trip
[bookly-form category_id="1" service_id="19" hide="categories,services,staff_members,date,week_days,time_range"]
Would you prefer a different tour? Want to create your own itinerary?
Build your own tour. Book a guide and go anywhere you like.
Highlights of the Cotswolds Tour
These are some of the highlights that can be included in your tour of the Cotswolds:

Oxford
This historic university town has been teaching students since 1096. Marvel at the architecture and enjoy the surrounding countryside.

Burford
If you are looking for a traditional English village, you will love Burford. See the beautiful stone houses and make sure to have a cream tea!

Bibury
Nearby Arlington Row is the most photographed row of houses in the Cotswolds. It's easy to see why – William Morris called Bibury the most beautiful town in England.

Highclere Castle
A gorgeous building used in Downton Abbey. It was built by Charles Barry, who also built the Houses of Parliament.

Blenheim Palace
This is the ancestral home of Winston Churchill and is set in stunning grounds – you could spend a day exploring the gardens alone!

Bourton-on-the-Water and Stow-on-the-Wold
Beautiful market towns with quaint cottages, pubs and plenty of cafés serving cream teas.
Who will enjoy this tour?
This tour is perfect for people who might be new to England and want to see more of the countryside. The Cotswolds epitomise England for many people – rolling hills, fields, countryside and quaint villages. It is also a great contrast to London if you want to get out of the city for the day. There are still plenty of bustling towns you can visit, but they all tend to enjoy a slightly slower pace of life than London.
Why choose a taxi tour of the Cotswolds?
The Cotswolds is a large area that deserves your full attention. When you visit, it helps to have a driver with you who knows the area thoroughly. What's more, your driver will also be your guide and will give you a full tour, focusing on areas that are specifically of interest to you. They can take you to cities like Oxford, or small towns like Bourton-on-the-Water.
The Cotswolds can be quite inaccessible unless you have a car. Taking a taxi tour gives you much more flexibility – you won't have to worry about driving on narrow country roads, or getting out of London in all the traffic. You can also pop into a pub and enjoy a beverage whenever you like, as we are your designated drivers!
Book your
Tour
We cannot wait to show you our city. Book online now and your tour will be paid for and confirmed immediately.
Tour length: 11 hours (pay for 10 – we allow one hour for lunch)
Tour pickup location: Any central London postcode
Extend your tour or amend it along the way – our tours are totally flexible. You won't need to worry about your taxi driver guide getting lost!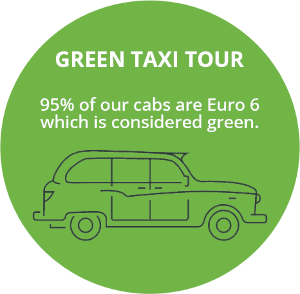 Want something different?
If you'd like to see some other sights, or want to be picked up outside of central London, that's not a problem. We can accommodate you.
Please get in touch to book so we can advise on a suitable tour length and confirm your pickup location. We will put together your perfect personalised tour.