London and horses, they just go together, don't they? It's not actually that long ago, 100 years or so, that London was a horse drawn society, as was the rest of the country.
London has a massive history as far as horses are concerned; they helped us build it by pulling carts laden with stone, bricks and timber, and they transported Londoners going about their business, young or old, rich or poor.
Even the condemned would have been transported to their executions at Tyburn (known today as Speakers Corner, Hyde Park) by horse and cart.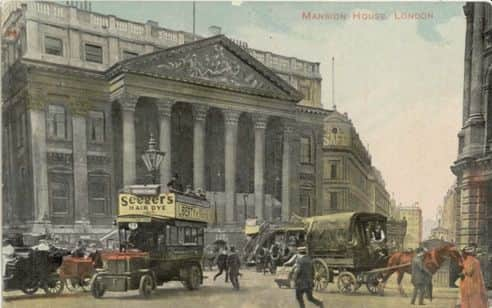 Horses are also famed in London for policing the streets, transporting royals and military including ceremonial duties such as 'Changing of the Guard' and 'Trooping of the Colour'. All of these traditions are still carried out to this day.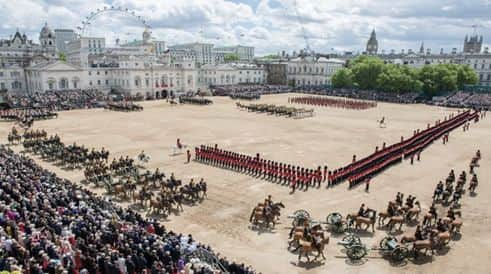 And then there's leisure! Have you ever had the pleasure of enjoying a nice 'hack' around Hyde Park admiring the amazing view's from up high? It is a memorable experience.
Back in the day, Hyde Park was home to 'The Ring' – an area to ride, or you could drive just north of the Serpentine Lake, in your best clothes with your best mount, or horse drawn carriage, the place to 'see and be seen' and 'show off'.
Another prevalent leisure activity involving horses was 'racing' which again, is still as popular today as ever. The world famous 'Tattersalls Horse Sales' racehorse auctioneers were founded in London during the 18th century by Richard Tattersall and stood at Hyde Park Corner, later moving to Knightsbridge until the mid-20th century before settling in Newmarket and other parts of the UK and Ireland.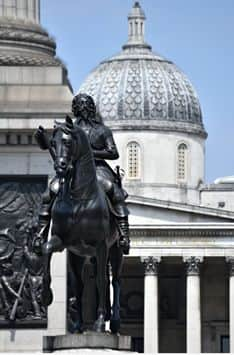 London also has an amazing horse related collection of sculpture and art gracing its streets, galleries and museums – an equestrian statue on many a corner you could say! One of its most famous is that of Charles I that looks towards Whitehall – his place of execution and was hidden for years during the interregnum (the period without a monarch). The National Gallery is home to work by premier equestrian artist George Stubbs, and the British Museum also houses horse related sculpture from the ancient worlds, as well as other related artefacts.
Victorian London was home to two very large 'Goods Yards' – major distribution points transporting goods all over the country. One in Camden Town (today's Camden Market), and the other at Kings Cross (today's Granary Square, home to central St Martins College of Art & Design). It would have been in these places that horses would have been used to their max, pulling carts, shunting trains and towing barges on the canal. Both sites would have stabled 100's of horses, with onsite hospital facilities for any sick and injured horses. If you visit these sites today, you will see reminders of its past including infrastructure, sculptures, fixtures and fittings, and cobblestone grounds. Talking of historic reminders, when visiting the west end of London, look out for the Duke of Wellingtons personal mounting block outside the Athenaeum Club (next to the traffic cone in the picture below), just off Pall Mall.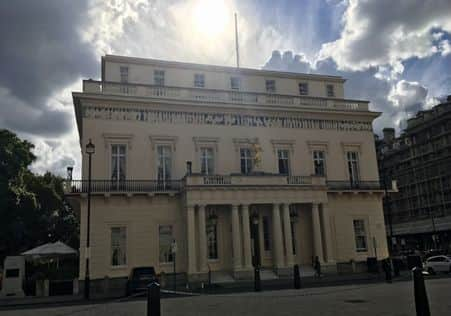 Our Royal Family has always had a major connection with horses. It was William the Conqueror that introduced us to mounted combat. Henry VIII was a keen horseman, and he would joust in his Tiltyard (Horse Guards Parade, the location of todays 'Trooping of the Colour'). Henry VIII also brought in "The Breed of Horses Act of 1535" and another in 1540, a legislation to increase horse size as back then, many horses were much smaller than today. It was decreed that "No Stallion under 15 hands or no Mare under 13 hands be allowed to breed" resulting in many horses being culled. Luckily, this was later partly repealed by Queen Elizabeth I which saved smaller breed horses. In fact, her Majesty Queen Elizabeth II is a very successful racehorse breeder, and her first horse was a beloved little Shetland pony called Peggy.
Pre 16th century, London's Trafalgar Square was home to the Royal Mews which had originally been built to house the Royal Hawks (the name Mews comes from their moulting). However, in 1534 it was sadly destroyed by fire and was rebuilt as stables. The name, however, has stuck and is remains to this day.
The Mews was rebuilt again in the 18th century before its move to the gardens of Buckingham Palace under King George IV. Although it is in fact a 'working' Royal Mews full of horses, coaches, carriages and cars, it can still be visited by the public and is an absolute must see.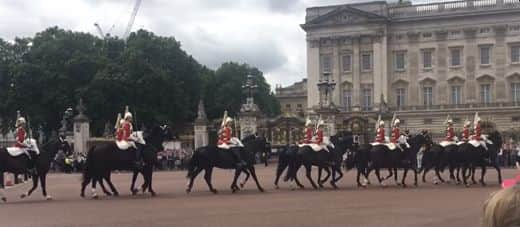 The Military also have a big association with horses. It is not uncommon to see the Lifeguards and Blues & Royals Regiments of the Cavalry riding through the parks on guard change and exercise duties. The Cavalry also has a fabulous museum at Horse Guards Parade (Henry VIII's old jousting ground).
London is home to many pretty little 'Mews Streets' which were originally built for stabling horses, housing carriages with living quarters upstairs, and in the horse drawn days there would have been plenty of them. Today, there are only two of these properties in central London used for what they were actually built for i.e., stabling horses.  Both properties are riding schools located in Bathurst Mews, north of Hyde Park and close to Paddington station. Both schools have access to riding in Hyde Park and the older of the two (Ross Nye Stables) is the longest established riding school in Central London. It was founded in 1965 by the late Mr Ross Nye who originally hailed from Australia. 55 years on and the stables are still going strong offering lessons and rides in Hyde Park, pony club facilities and riding for the disabled in the royal barracks.
Finally, as cab driver guides at Black Taxi Tour London we owe these beautiful, majestic creatures a big thank you. Without them we may have not existed at all. The first licensed taxis dating back to 1654 (and Oliver Cromwell's signature) were originally horse drawn by a breed of Flemish origin (known as a Haquenue) which were later corrupted to Hackney and where we get the term Hackney Carriage. For that we are eternally grateful.  We cannot imagine London without horses.