The City of London's boundaries were defined by the Roman's when they put a defensive wall around Londinium in the second century, it was to bolster their defence against marauding tribes and infiltrators.
For all intents and purposes the basic shape and boundaries of The London Wall hasn't changed that much since Roman times.  Today, that walled area is known colloquially as the Square Mile.   The City of London has developed into a thriving and modern city that has commerce running through its veins.  London is a strong and robust city that has seen many disasters and catastrophes over the centuries.  The Great Fire of London in 1666 saw swathes of medieval churches and buildings totally destroyed and decimated.  The Blitz during WWII saw bomb damage that devastated the structure of London but could not dent the morale of Londoners.
Ironically, these events have provided this great city the opportunity to rebuild a metropolis that is so diverse in its architectural styles that it provides a perfect backdrop to trace its historical and cultural roots through its buildings.
Often in the shadow of some of London's more high rise modern buildings that boast descriptive names associated with their physical shape (Gherkin, Cheese Grater, Walkie Talkie, Boomerang, Shard), you can find some real historical, architectural gems.  They are often isolated in their own environs buildings which seem so tiny in stature when compared to their much elevated and grown up neighbours.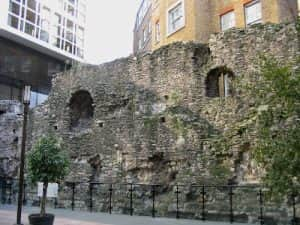 What is a livery company?
Some of these buildings that I refer to are the home to City Livery Companies.   Livery companies are trade associations in the City of London.  They were established in the 12th century by groups of tradesmen, craftsmen and merchants with similar skills and interests.  These groups formed a guild for their specific trade or industry.  As a form of identification to which a guild member belonged to, they would wear different coloured tabards as part of their regalia this would become part of their livery.
Essentially the purpose of a livery company in medieval London would be to maintain standards and regulate prices within the industry.  The company would encourage lengthy apprenticeship schemes (7+ years to complete), as this was the only way to become a qualified tradesman under the scrutiny of their Master.  Upon completion of their training, apprentices would be known as a 'Freeman' – free to work on their own and to operate within the city walls.
Other aspects of the livery companies were their benevolent and charitable status, in as much as they would help families whose members had fallen on hard times due to sickness or old age and often provide alms-houses as a secure place to live.
One of the first industries to form a guild were the Weavers, wool was vital to England's trade both at home and abroad and our economy was heavily dependent on it.  Since then, nearly every trade and profession has established a livery company, at the present time there are 110 traditional and modern livery companies. The most recent being The Worshipful Company of Air Pilots, a nod towards more up to date professions and skills.
How are livery companies structured?
The administrative model of many livery companies is similar in their formation.  The role of the Chair, otherwise known as the Master, is elected from within the membership of the Company once a year, when the Master/Mistress has been appointed, wardens and assistants to the courts are installed.  They act as a board of directors. Usually the CEO or the Clerk of the Company would be the only full-time employee of the company.
The liverymen and women also elect from within their own companies sheriffs who go on to assist the Lord Mayor of London to run the civic administration of the City of London and to re-elect every year a new Lord Mayor who in turn would have been a liveryman in the past.
Henry Fitz Ailwyn was appointed the first Lord Mayor of London in 1189 since then out of 700 Lord Mayors only two have been women, Dame Mary Donaldson 1983 and Dame Fiona Wolf in 2013.  In 2015 a milestone was said to have been reached by the association of female past masters when they achieved 100 members.  I hope to see even more women taking an active role in the City of London as we progress further into an even more inclusive city with more opportunities than ever open to those who want to grab them, regardless of race, creed or gender.
What livery company do London Taxi Drivers belong to?
The industry I'm associated with, as a London licensed black taxi driver, has its own livery company, The worshipful company of Hackney Carriage Drivers (WCOHCD).  Our livery company received its Royal Charter in 2013, with its origins dating back to an Act of Parliament in 1654.  The ethos of our company as with all other companies is to support its membership in all aspects of our industry with a special emphasis on charity and education.  It is through WCOHCD and the Museum of London that I trained to become a qualified London tour guide.
The great twelve livery companies of the City of London
In the 16th century there were around 48 livery companies and an order of precedence was instigated known as the 'great twelve'.  The great twelve were made up of the most wealthy, powerful and influential companies in the City of London.  For the record, the order of precedence now (as it was in those bygone days) are the twelve companies belonging to:
Mercers'
Grocers'
Drapers'
Fishmongers'
Goldsmiths'
Merchant Taylors'
Skinners'
Haberdashers'
Salters'
Ironmongers'
Vintners'
Clothworkers'
The positions of 6 and 7 became quite fractious because the Skinners' and the Merchant Taylors' had history, and in 1484 this led to violence between them during The Lord Mayors flotilla procession along the river Thames.  To reach an amiable compromise it was decided to alternate the position of these two companies every year.  Therefore, sometimes when you hear people being undecided it is often referred to as 'being at sixes and sevens'.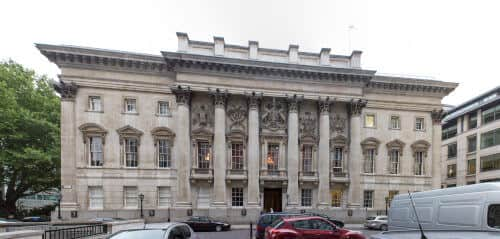 One of my favourite livery halls is the Goldsmiths Hall.  Although it has been rebuilt three times since the 14th century, it maintains an air of splendour and grandeur that exudes power and wealth from the moment you see it.  The main entrance has six massive attached Doric columns of Corinthian order set on high pedestals.  Just above the first storey window sits the Goldsmith's coat of arms which features a panther's head in the heraldic crest.
As well as a meeting place for its members, the Goldsmiths Hall serves as an assay office to ratify and authenticate gold and silver by stamping it with a hallmark.  The stamp of a panther's head is used to denote that the precious metal has been stamped and inspected in London.
You may find that the hall seems familiar, it has been seen many times on our TV screens in lots of programs especially dramas.  Most recently, it has featured in The Crown as a stand in for some interior shots of Buckingham Palace.
Taxi Driver Top Tip!
If you find yourselves strolling through our wonderful city you can find lots of tiny hidden green spaces to just sit and chill. The Goldsmiths Garden is located across the road from the hall and you'll recognise it because it has a panther's head sculpture in black and gold at the top of a wrought iron arch leading into a beautiful sunken garden oozing with tranquillity and charm.  Make sure you wander inside.
Words by David Burnetts.