Written by taxi tour guide Steve
Indulge me for a minute. Imagine that London has three physiological elements: the River Thames is the spine, the Royal Parks are the lungs, and in my humble opinion, theatre is the heart.
So it all began for me aged five when my parents took me to see the pantomime Aladdin at the Gaumont State, a Grade I listed art deco building in a little corner of North West London. Fans of The Beatles and the Rolling Stones will be interested to know that both bands performed here in 1963/64 respectively, just a stone's throw from the Abbey Road crossing and the slightly infamous Decca Records HQ. This beautiful building is a must see on any music tour of London!
I was completely enthralled by my first experience of the theatre. Some time later, I saw Fiddler on the Roof starring Topel and I was even invited backstage to meet him. Incidentally, my father's name was Kopel and on reflection, they were very much like two peas in a pod.
Theatre touches everyone. Moving on, there's my wife's obsession with and devotion to the show Les Misérables. More recently, wearing a mask and armed with COVID passes, we saw a revival of the Rocky Horror Show. Sadly there are no photos of me wearing gold satin shorts as I didn't want to embarrass my children. My fellow guides know I'm not averse to dressing up to re-enact a historical event and have some fun…
Let's be honest, I love a musical, but with so much to see and do – from straight drama, the classics, ballet, opera and countless other productions – there are wonderful, never-ending opportunities to enjoy so much more!
London's Theatrical Past and Present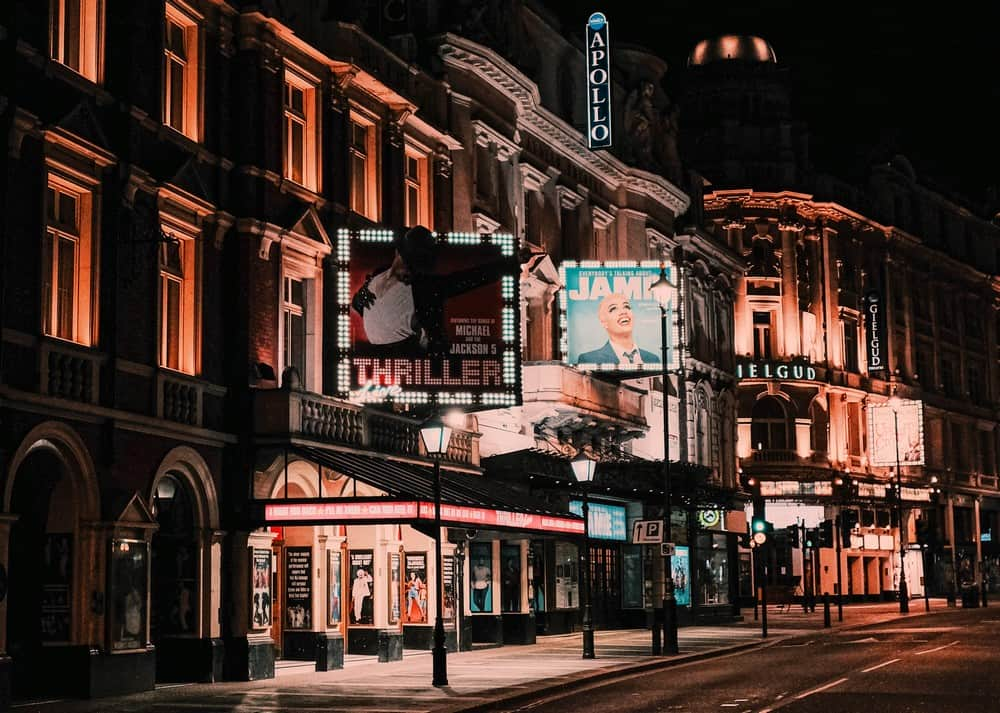 What is this extraordinary relationship with theatre that has propelled London to become the greatest cultural city in the world? With upwards of 300 theatres dotted around London, it's a vast spider's web supporting a massive industry.
We've come a long way from jousting, bear baiting and cock fighting, all of which attracted a crowd. These events could only to be outshone by the macabre spectacle of execution day that drew in thousands of onlookers.
To some extent, throughout the ensuing centuries as the landmass and importance of London grew, the theatre scene also underwent and withstood extreme hardships. Raging fires destroyed all before them, rebuilding took place, only for buildings to be burnt down again. There was censorship to contend with, and enforced closure due to plague – it's funny how history repeats itself some 450 years later, with our theatres also shut down by the government of the day during the pandemic.
The first permanent public theatre was built by James Burbage in Shoreditch in 1576, followed some time later by the Globe in 1598 where William Shakespeare's plays were performed (without the patronage of Queen Elizabeth I his works would never have survived). The modern reconstruction of the Globe that's so popular as an iconic London landmark opened in 1997.
Broadly speaking, every part of London has theatres, but the highest concentration is to be found in central London. The area known as 'theatre land' is home to many outstanding and iconic venues: the Theatre Royal Drury Lane, which is the oldest surviving theatre built in 1663, followed by the Theatre Royal Haymarket (1720), the Adelphi (1806), The Royal Opera House (1850), the Vaudeville(1820) and many more.
I cannot ignore my favourite theatre, of course, and I have been many times: the Royal Albert Hall. Finished in 1871, some would say it's a massive mausoleum to Queen Victoria's husband and consort Prince Albert, but I beg to differ.
Back to the present day. My great friend Lord Michael Grade, ex BBC Chairman and West End producer, simply put it like this: "London's theatre has survived everything thrown at it, and you simply cannot replicate a live performance." What a relief.
One of the perks of having a son-in-law who is an international rock star is a backstage pass. This gives you access to the backstage bar where possible celebrity watching takes place, but more importantly there's no queue for the WC, especially if you have a weak bladder – as guides, we all know the importance of a comfort break. But even without a backstage pass, the London theatre scene holds many charms. Lord Andrew Lloyd Webber, West End theatre owner and composer, announced that the filtered air is safer in his theatres than in the world outside, and he insisted that other facilities have been improved too. Actually, many venues took the opportunity to invest in improvements during lockdown.
London is very much open for business! So in conclusion, I appeal directly to you: help support our wonderful entertainment industry, COVID permitting.