London's Must-See Historic Royal Palaces
As the saying goes, an Englishman's home is his castle, but is it fit for a king or queen?  Our popular Classic London Sightseeing Tour features five Royal Palaces in its itinerary of London's must-see sights.  Each palace can claim its right as being a castle, because of the security, strength and protection it offers its Royal and important residents.
Over the centuries, our castles have frequently come under attack from marauding armies and rioters who were intent on invading our lands with battering rams, catapults and scaling ladders.  Today, thankfully, the only army we come under attack from are visitors from home and abroad, who come to London armed with mobile phones to capture an amazing image of an iconic London landmark that they can instantly share on social media for family and friends to see.
As a driver guide, at each palace that we arrive at, we will give a short presentation on what can be seen visually, and then we cover some of the fascinating history that these majestic buildings have stored within their ancient walls. Then we put our customers in the picture so they can capture their own memory of the tour.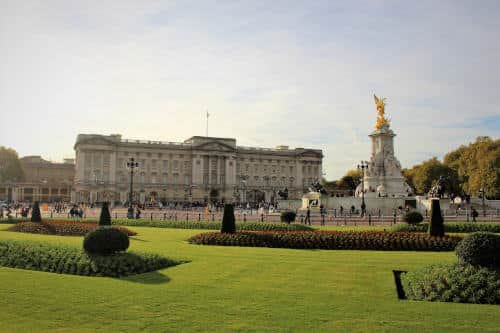 Buckingham Palace
Buckingham Palace is often on the top of a visitors wish list.  After all, it is the Monarchy's principal London residence, and the centerpiece for the notorious Changing of the Guard Ceremony, a great spectacle and very entertaining.  Lots of people are often intrigued to hear how Queen Victoria was the first monarch to regard Buckingham Palace as being the main Royal residence.  It was Queen Victoria and Prince Albert that re-modelled the original palace and installed the east facing balcony where the Royal Family still gather to greet the public to this day.  London's annual Trooping of The Colour ceremony closes with a Royal Air Force (RAF) fly-past, and is watched by members of the Royal Family from Buckingham Palace's famous balcony.  A scene that is very monumental, well known and loved by members of the public.
As driver guides, we love questions and being tested!  Some of the most frequently asked questions from customers are regarding Buckingham Palace; "Is the Queen at home?", "How many rooms are there?", "How long do the sentries stand on duty for?"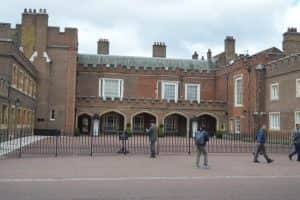 St James Palace
Just a short stroll down The Mall is St James's Palace, an imposing red brick Tudor style palace built in the reign of Henry VIII as a country retreat for him and his new wife Anne Boleyn.  St James's is still considered to be the most senior of the Royal palaces and is where the court of St James operates the administrative role of the Royal Household and where royal announcements are formally announced.
Queen Victoria married Prince Albert at the Chapel Royal and Charles I spent his last night in comparative luxury there before he made his long lonely walk on a cold winter's day to The Palace of Whitehall for his execution.  He could not turn up late, he was the main attraction of the day!  Thousands of people had come to watch the spectacle.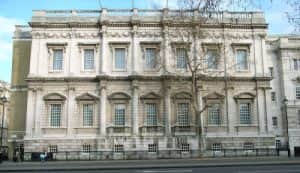 Whitehall Palace
Whitehall Palace was commissioned by Henry VIII in the early 16th century and sadly only The Banqueting House, built by Inigo Jones in the early 17th century, is all that remains.  The rest of the palace was ravaged by fire in 1698.  Nevertheless, our guides always point out the exact spot where Charles I stepped from a first-floor window onto a specially erected scaffolding for his execution in January 1649, just a few minutes past 2 o'clock in the afternoon. The Banqueting House remains as a lasting remnant of a palace that was regarded as the largest in Europe, which covered a  vast area of what we know today as Whitehall, the centre of political administration and governance in The City of Westminster.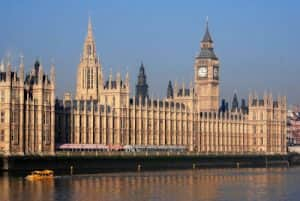 Westminster Palace
Westminster is an area where almost every building has some architectural, historical or cultural interest.  Westminster Palace (commonly known as The Houses of Parliament) dates all the way back to the 11th century.  Westminster Palace was built during the reign of Edward the Confessor and was the Royal residence for many kings until the 16th century.  Sadly, only one part of it remains intact and that is Westminster Hall.  However, the history lives on and scandals and plots are in no short supply.  The failed Gunpowder plot of 1605 being the most memorable, which is remembered in many British households still to this day on November 5th. The Palace that we see today with its stunning gothic towers is a replacement due to a fire that destroyed the original palace in 1834.  It has come under attack on many occasions including the Blitz in WWII, but it has survived!  Surely this demonstrates the strength, resilience and fortitude that a building of this stature needs in order to be considered a castle, a building that represents the beliefs of the nation that it guards.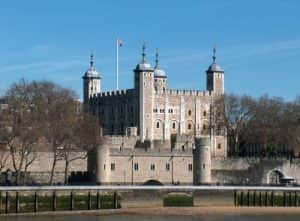 The Tower of London
When William the Duke of Normandy, in 1066 invaded England with his army, to lay claim and fight for the Crown of England which he believed to be rightfully his, he was not going to take no for an answer.  To mark his victory, William and his army marched into London for his coronation, and he was crowned on Christmas Day 1066 at Westminster Abbey.
The Tower of London is one of 23 castles that William built to protect his London from attack.  The imposing structure of the Tower of London exudes strength, power and majesty both visually and physically.  Strategically located on a hill on the north side of the river Thames,  it acted as a fortress and a gateway to London to protect the Norman invasion from any further uprisings, and just like The Palace of Westminster they are both recognised by The United Nations Educational, Scientific and Cultural Organization (UNESCO) as a world heritage sites of significant importance.
At the Tower of London, your driver guide will be happy to explain details of its many uses during its long history.  Besides a famous execution site for A Listers in medieval times and a stronghold for the Queen's jewels, it has had its own menagerie, mint and torture chamber and houses the legend of the black ravens.
If you are interested in joining us on a tour, we'd love to hear from you.  Do not hesitate to call us for more information on 020 3633 5262.