Bridgerton Tour:

experience Regency London
4 hour tour
Price per taxi
Up to 6 guests
Bespoke tour
If you're a fan of Bridgerton's history, drama, or simply the dashing Duke of Hastings (and let's face it, who isn't), then this is the tour for you.
Book your 4-hour tour online for immediate confirmation.
Bridgerton London Tour
[bookly-form category_id="1" service_id="15" hide="categories,services,staff_members,date,week_days,time_range"]
Would you prefer a longer tour? Or maybe you want to create your own itinerary?
Build your own tour. Book a guide for up to 10 hours and see London your way.
What are the highlights of the Bridgerton London Tour?
We begin in central London before taking trips out to some of the most famous and iconic spots from the Bridgerton series, as well as showing you what life was like in Regency London. During the tour, you'll have the opportunity to visit:

Royal Greenwich
Ranger's House, which features as the beautiful Bridgerton House in the series, is based in Greenwich – you'll see the spot where much of the action takes place.

St James
We'll take you on an aristocratic adventure through an area that was central to life in Regency London. See the beautiful St James's Square, where every building looks fit for a Bridgerton ball.

Various filmset locations
See where Bridgerton was filmed – visit shops, pubs, quaint high streets, and see some secret spots fit for a Regency-era rendezvous.
We conclude our tour with your very own Regency-style photoshoot, starting at Carlton House (the home of Queen Charlotte's son, the Prince Regent), making our way down elegant boulevards to Regents Park, the prince's hunting ground.
The beauty of our tours is that they're completely bespoke. If there's something you particularly want to see, or you're interested in doing some general sightseeing along the way, we'll be more than happy to accommodate you. This is your trip to Regency London, personalised in any way you choose.
Who will love the
Bridgerton Tour?
The Bridgerton tour is more than a chance to see filmset locations. It's your opportunity to take an aristocratic adventure back to London's Regency period and learn how the upper classes – such as the Bridgertons, the Featheringtons, and even Queen Charlotte herself – would have lived. You'll explore aristocratic society, homes and socialisation, all through the lens of Bridgerton's central characters and stories.
Why take a taxi for your Bridgerton Tour of London?
A black taxi is the perfect way to enjoy your Bridgerton tour in your very own private carriage. See the sights you want to see, complete with tailored commentary from your expert taxi tour guide.
Our guide Barry designed the Bridgerton Tour. Barry loves this period in British history for the sophistication, manners, clothes, architecture – and, of course, for the scandal! Bridgerton provides a fascinating insight into 19th Century London, so let Barry and our team of guides show you more.
Book your
Bridgerton Tour

now

We cannot wait to show you our city. Book online now and your tour will be paid for and confirmed immediately.

Tour length: 4 hours

Tour pickup location: Any central London postcode

Extend your tour or amend it along the way – our tours are totally flexible. You won't need to worry about your taxi driver guide getting lost!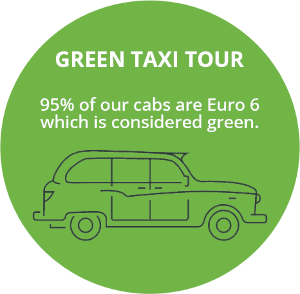 Want a longer tour?
If you want a more leisurely day or want to see more of the sights, why not book in a longer tour? This gives you time to stop for lunch, visit more areas of the city and make the most of your time in London. Build your own tour here, or get in touch and we will arrange everything for you.
We can also pick you up outside of central London locations. Please get in touch to book so we can recommend a suitable tour length based on your pickup point.