4 hour tour
Price per taxi
Up to 6 guests
Bespoke tour
Our guides know London inside out and can show you the top locations across the city. Even as an avid James Bond fan, we are sure you will come away from your tour having learnt something new.
Book your 4-hour tour online for immediate confirmation.
James Bond London Tour
[bookly-form category_id="1" service_id="7" hide="categories,services,staff_members,date,week_days,time_range"]
Would you prefer a longer tour? Or maybe you want to create your own itinerary?
Build your own tour. Book a guide for up to 10 hours and see London your way.
What are the highlights of a James Bond Tour?
Your guide will take you to a variety of filmset locations, including:
Is this the right London tour
for you?
Contrary to the 1967 Bond movie title, you only live once. If you are a serious James Bond fan, then this is the tour for you. It will appeal to all film lovers and movie buffs, who want to get a little closer to the world of James Bond and see the settings for some of the most iconic moments. We can tailor the tour to you, and show you many classic sights along the way if you want to see more of the city. Filmset locations are spread out across London, so there will be something for everyone.
Why take a taxi for a James Bond Tour?
The James Bond films were made in various locations throughout the world, and the London filmsets were spread out across the city. Many tour companies will take you on a walking tour, or will offer you bus sightseeing, making it hard to see everything. Touring the filmset locations in a taxi is a fun alternative. You will see the sights that interest you and your driver will tailor your private tour so that it meets your interests. As qualified guides, we will get out and walk around with you, giving you the full, personalised James Bond experience. We can use bus lanes and we aren't constrained by particular routes, so we will get you from A to B faster than you can say 'the name's Bond. James Bond'.
Book your
James Bond Tour

now

We cannot wait to show you our city. Book online now and your tour will be paid for and confirmed immediately.

Tour length: 4 hours

Tour pickup location: Any central London postcode

Extend your tour or amend it along the way – our tours are totally flexible. You won't need to worry about your taxi driver guide getting lost!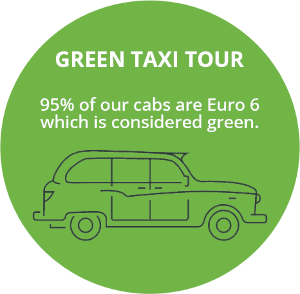 Want a longer tour?
If you want a more leisurely day or want to see more of the sights, why not book in a longer tour? This gives you time to stop for lunch, visit more areas of the city and make the most of your time in London. Build your own tour here, or get in touch and we will arrange everything for you.
We can also pick you up outside of central London locations. Please get in touch to book so we can recommend a suitable tour length based on your pickup point.